This is a gentle reminder. We have a game going on this month. You guys would love to be a winner of $75 dollars giftcard. You simply submit a comment, when you visit this blog. For more details of the game, go to Blog Achive, click on News posted on May 29th and read THIRD NEWS. Thank you very much and hope you all have fun with the game.
PARIS CONTINUE…
There are more Paris photos, I wouls love to share with you when I get back home.
Vendome.
This is Saint Honore' street, on the way to Rick Owens store.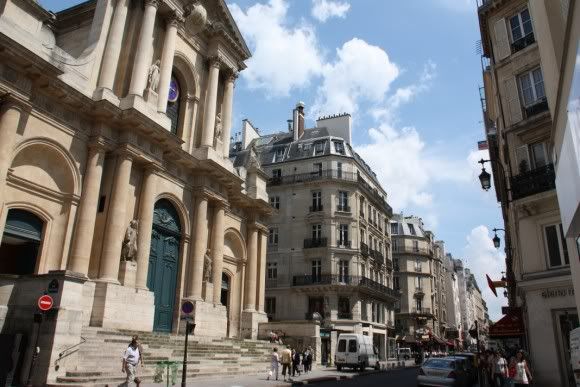 On the way to Concorde.
Straight ahead is Opera House.
NEW PURCHASE.
They had a private sale, when I was at the Comme des Garcons and Rick Owens store. They were nice to add me into their Private clients list. So, I could have 40% off. The sale is tax free because I'm a foreigner. I got some goodies at both stores. Here are two new Rick Owens pieces that I would love to share : snake skin shoes and an antique gold jacket. The photos were taken in front of Rick Store, on the walk-way of the old beautiful building.
When I travel, go shopping/sightsee, I have a pair of flats with me for alternate. I'm not a superhero on heels ;-). Anyway, I kept my eyes on these shoes since they came out. Now, I finally got them. They are super comfy and feel 100% like flats. I could run a race on cobble stone street with them on ;-). I'm in love with the shoes because they give me comfy and super cool look on the street. The shoes become my flats on during my travel.
Have a wonderful day, everyone….!!!! Hugs….from Hanh.