Summer White Jeans
Let's talk about white jeans. In summer, if I ever wear jeans, especially skinny jeans, I would prefer to wear white more than dark jeans because they look good under the summer sun. This is my first time to have a good pair of white skinny jeans. I was cheap before and I just have one pair of white skinny jeans from Hollister that I bought four or five years ago ( although, I had a good pairs of white in 7 For All Mankind but wide legs). I'm very glad to have gotten this EVER jeans at Barney's on sale from $252 down to $74. I'm also happy with the way they fit and feel comfy like legging. I don't wear jeans often for some reason but when I do, I definitely enjoy it. I wore with Tao light weight jacket/shrug, Helmut Lang white tank, MMMargiela cowboy boots. Maybe you can tell that I've been enjoying wearing these boots lately. Whenever I've had them on, I feel like a fancy cowgirl with a eccentric twist on Margiela.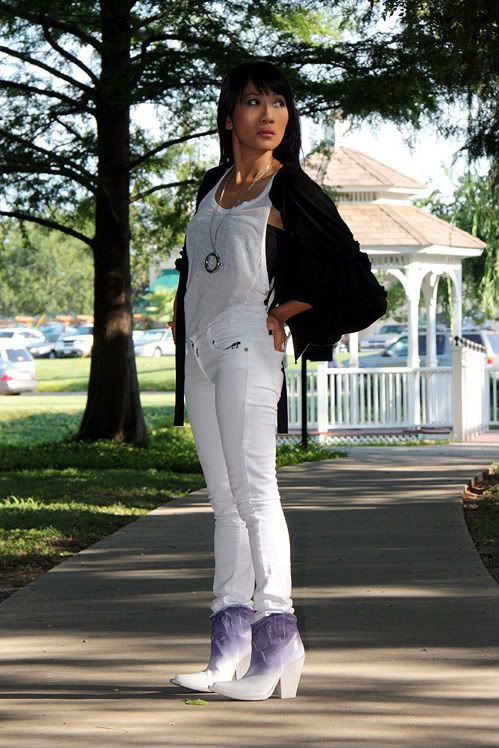 MMMargiela necklace.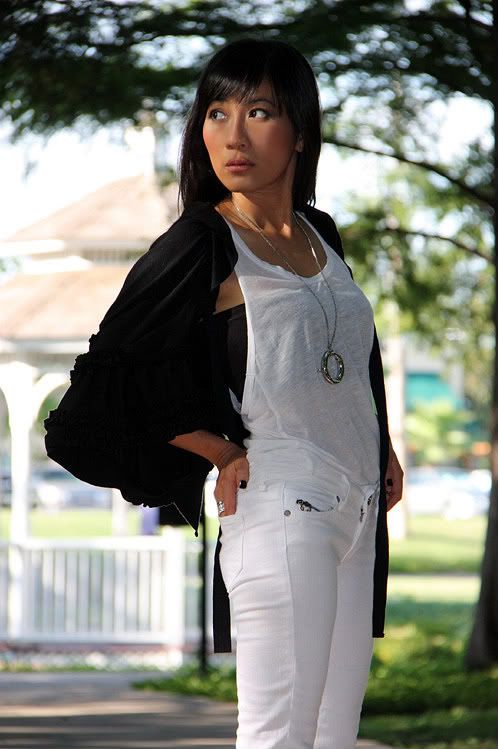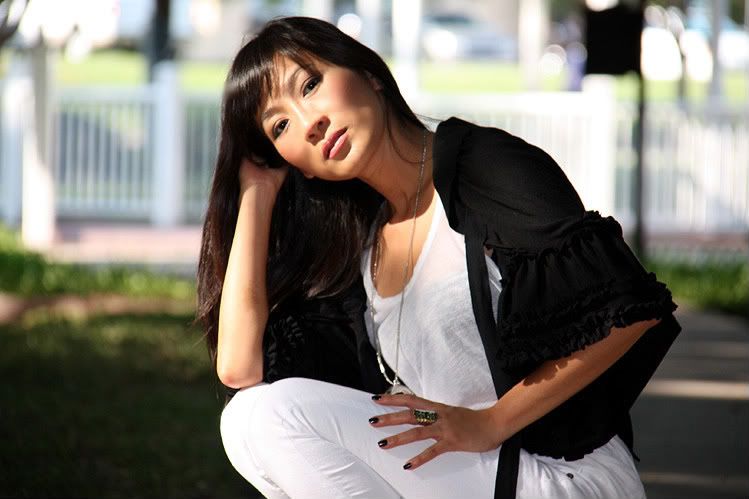 Summer Banana desert
The weather is getting hot here in Texas. It makes me recall my life in Vietnam, with the hot tropical climate. I used to go to the open-air market to eat banana desserts, like grilled banana with sauted green onion ( it sounds bizarre, right? but it's so good), banana tempura, banana with coconut milk, banana ice-cream, etc… I love to eat anything cooked with banana. When I cook at home, I usually cook food in a traditional way, but sometimes I love to make up my own recipe. When I do, I love to make it an east meets west style. And here are my own east meets west banana desserts.
Grilled banana with pastry sheet and maple syrup.
First, you bake the pastry sheet and grill the banana in different ovens until it looks golden brown. Then, you alternately layer them with maple syrup, top with sauted green onion in peanut oil, roasted peanut and coconut milk. To cook the canned coconut milk, you mix it well with little salt, little tapioca flour and boil. This dessert has a complex taste of sweet, a little salty, creamy coconut milk and peanut.
Banana with vanilla Oreo ice-cream cake.This one is much easier to prepare. You just grill banana in the oven until it's golden brown. Then, you layer it with vanilla Oreo cookie ice-cream cake ( you could use different ice-cream flavor but I think vanilla goes best with banana, so it won't over power banana flavor). Finally, you top with cacao powder. The little touch of Oreo cookies and cacao powder do not overpower the banana flavor but give your mouth a nice blending taste. Enjoy your summer dessert!!
Wishing everyone a fabulous weekend !!!! Hugs…Hanh 😉ps: you might try to make banana dessert on this weekend with your family and friends and when you buy banana, you choose the ripe one is better for sweetness…xoxo..!