Our goal for the last two weeks was to try out new restaurants. We called it "New Restaurant Weeks." It was truly fun to try out different foods from different restaurants. Those restaurants may have been opened for a while, but for us they're new. Anyway, we tried out these: Go Fish (Asian fushion food, corner of Alpha and Noel, near to Galleria Mall), Yutaka (modern Japanese food, at up town), Si ( Spanish-taspa style, also up town), 560 ( new American-Asian fushion, at down town). And the winner is Yutaka, first runner-up is Si, second run-up is Five Sixty. I'm surprised because Five Sixty is owned by Wolfgang Puck.
Yutaka is on Mckinney Ave and has been opened about 3 years. It is owned by young chef Yutaka Yamato. His food is absolutely oustanding. He knows what he is doing with his food's elements. The pictures below are his creation.
Tuna Gyoza (Japanese dumpling) with water chestnut.
Heirloom tomato salad with miso paste.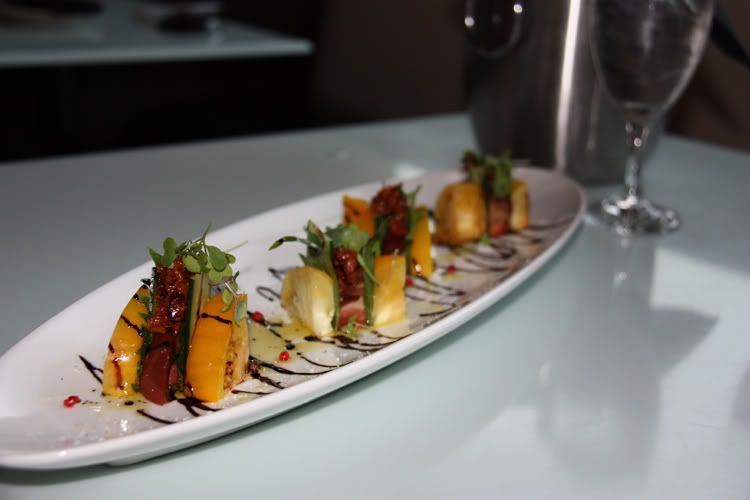 Eel crepe roll with yamamomo and karashi miso vinaigrette.
Leopard Print
I wore Junya Watanabe leopard print. When wearing leopard print, I like to keep the rest of the outfit clean, sleek looking, and get attention on its print by pairing it with just solid black, brown or just butter cream. If I want to wear some jewlery, I just go easy on jewlery and that won't take away attention from the leopard print. I also like to brighten up my face by wearing pop brilliant lip color like true red, rich orange or deep lovely pink. In these pictures, I wore Rouge Allure-Imagination pink Chanel underneath orange Heat Wave Nars and my lip color changed from rich pink to orange depends on angle of the light as you will see in the pictures below.
I wore Junya Watanabe top with F21 skirt.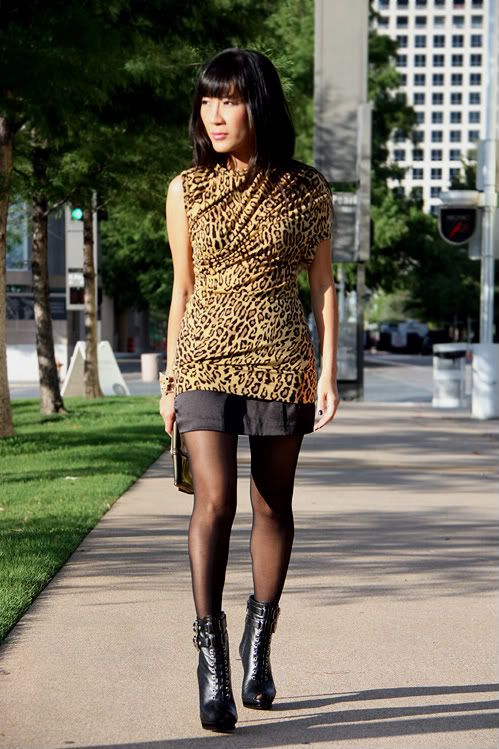 Bronze/Antique Gold metalic Givenchy clutch.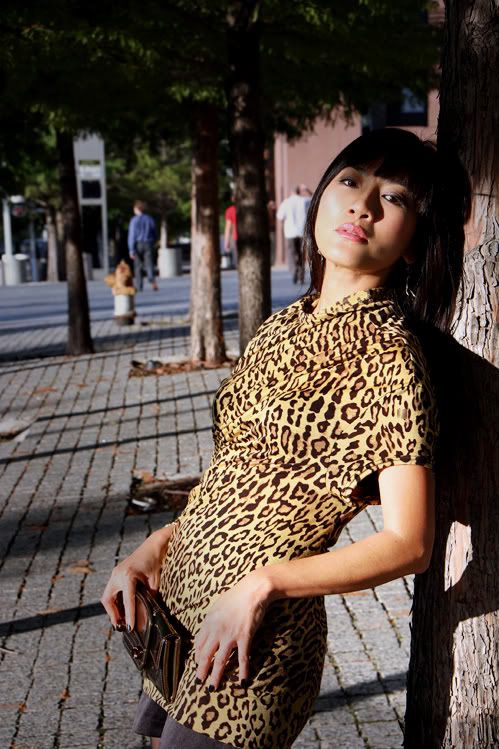 Dull silver antler shape earing by Gabriella Kiss. Gold leopard face vintage cuff. I didn't plan to take this picture inside Yutaka restaurant, since the light there at our seats was perfect and I went for it.
Lesilla boots, recently bought at Gregory's store in Galleria Mall. To be honest, I rarely shop at Gregory's. But last year, I went there with one of my friends, Mimi, and bought one pair of shoes, then returned it, then stuck with their store credit. The expiration day is coming and I need to use it and that's how I got these boots. Could you see the cut-out at the platform? kinda cool.
Wishing you all a wonderfull day!!!! big hugs…from Hanh.