Throughout its thousand year history, the term "stained glass" has been applied almost exclusively to the windows of churches, cathedrals, chapels, and other significant buildings. Its style and design have changed through different periods of time.
Stained glass is like an art and a craft. It requires the artistic skill to conceive an appropriate and workable design, and the engineering skills to assemble the piece with lots of details.
I don't have full knowledge of this area, but my husband and I have an obsession for it. It fascinates us for its details and its brilliant color. We like to capture the art work of stained glass while we travel and visit cathedrals, for example.
From Strasbourg Cathedral.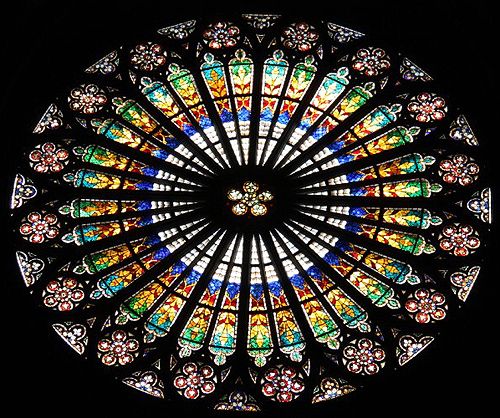 From Notre-Dame Paris Cathedral.
Also from Notre-Dame Paris cathedral.
From Chartres Cathedral.
This is from our house, we call it the Meditation Room. As I said above, we have an obsession for it and we built one in our house. It's Moroccan in style. We also had an original 1930's stained glass window in our first home in Lakewood, Dallas. Unfortunately I don't have a photo of it to share.
In this post, I wore Marni dress and its print reminds me of stained glass. It's perfect to wear for this post to show how stained glass has found its way into fashion.
Marni shoes.
F21 belt, Jean Paul Gaultier necklace.
Wishing you all a blessing day!!!! Thank you very much everyone for your time and comments.Big hugs….Hanh;-)
Ps:Answering the questions for the past posts: I recently bought The Sam Edelman ankle boots from
Fashion is Poison
, they are comfy and run true size. The grey nail polish was from Urban Outfitters, last year. I believe they still carry it.