Hello everyone,Hope you're doing well. I just realized that I haven't had a giveaway gift for this year. Therefore, let's start it now. The "Fashion Blog World's Inspiration". I know there are many of you that are very inspired. The idea of this contest is just for fun. It would be lovely to share your style here at Life-in-Travel, and I'm excited to know more about your sense of fashion. Everyone (including international contestants) can enter this contest giveaway gift, just send me at lifeintraveling@gmail.com a picture of your outfits with your name and what you're wearing. Please, summit your one or two photos by March 3th. I will choose around 20 faces and let all the readers rate it. The winner will get $125 giftcard from the store of your choice, or cash. Have fun with your fashion creation and GOOD LUCK to you all! 😉
Comme des Garcons runway spring 2010.
Me, wearing Comme des Garcons jacket (love all the different textures, prints and fabric which make the jacket interesting. Cool styling, too), Yohji Yamamoto gray top, Club Monaco black turtle neck, the Row legging, Christian Louboutin ankle boots, F21 cuffs.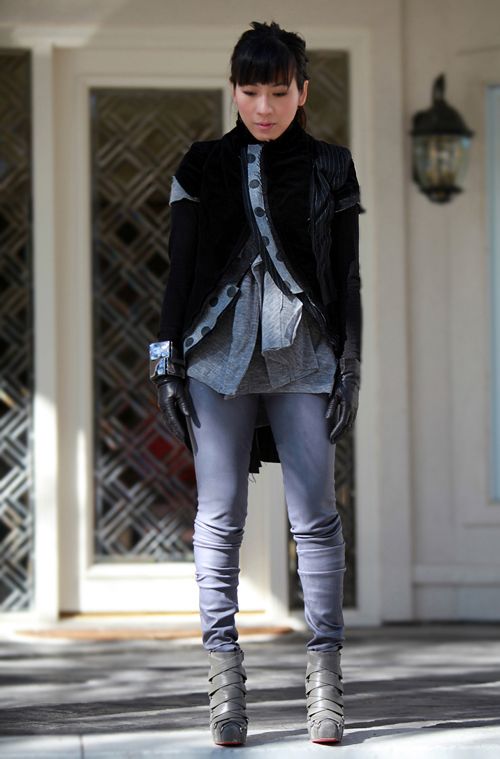 Changing the style of the collar.
Christian Louboutin ankle boots.
Wishing you a wonderful day!!! Thank you for reading!! Again, GOOD LUCK on the contest!!Big hugs…Hanh 😉