It was the craziest travel experience in my life. Our fight was canceled, along with everyone else's, because of the volcano ash from Iceland. After my husband spent 5 hrs on the phone calling airline and travel agencies. We got lucky and found a connecting flight to the US. We got on the flight. And four hrs into it, the captain announced that the plane is returning to Paris because of an oil leak. I thought I was dreaming. 12 hours after getting at Charles de Gaulle airport, we were back. We waited until midnight, the next day, to board again. 13 hours later, we arrived at 4 Am in San Francisco.
Yes, we made it to get out of Paris. At this point, any city that we landed in the US, we considered "Home sweet home!" (we had one day to stay in San Francisco waiting for the flight to Dallas). First, we checked in the Le Meridien Hotel (we like its convenience location) that we already booked for our room in advance. The hotel was full and because of their mistake at our reservation, they gave us a penthouse which it was available with the same charge for normal room. Good news! Awesome! After a nice nap, we woke up at 10:30 and started our day by walking to Chinatown for Dim Sum at City View, recommended by the concierge. Great meal! We continually walked around Chinatown and ended up in a beautiful, serious Italian/Asian antique store. After having a conversation with the boss of the store, we told him about how we were in San Francisco because of a crazy flight in Paris. He is kind enough to offer us a ride around town. That's super awesome! The boss's younger brother drove us to Coit Tower for a great view of the city, to Lombard-the crookedest street, then Twin Peaks which is another place for a beautiful city view. After that, visiting Sausalito was a great experience. Finally, he dropped us at Union Square where there is great shopping. At the end, we walked back to our hotel to get ready for dinner at Betelnut. It was so nice that our waiter offered us a complimentary desert for welcome home. This was an amazing day. We had great fun. It accidentally ended up San Francisco and was a perfect way to end the trip.
The view from penthouse at Le Meridien.
Chinatown is the oldest Chinatown in North America (its establishment in the 1840s) and one of the largest Chinese communities outside Asia. It is also a major tourist attraction-as its shops, restaurants…It's a perfect place for buy in Chinese souvenir, eating Chinese food. To be honest, I like it more than Chinatown in NYC.
A dragon gate on Grant Ave at Bush street in Chinatown.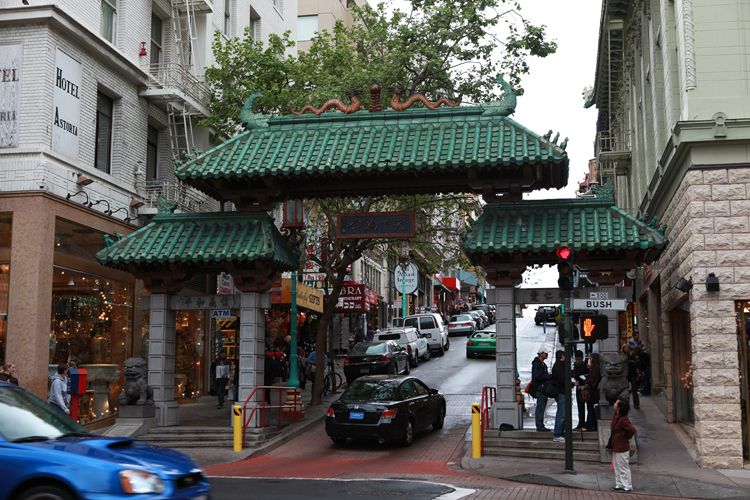 Dim sum at City View restaurant on Commercial Street in Chinatown. Crispy crab claw ball is my favorite.
Coit Tower was built in Pioneer Park top Telegraph Hill in 1933 where you can have beautiful views of the city.
City view from Coit Tower.
Golden Gate Bridge seen from Coit Tower.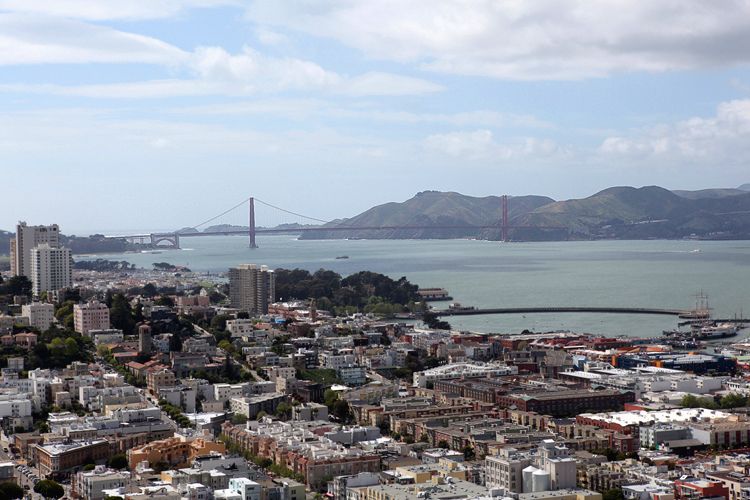 Bay Bridge seen from Coit Tower.
The city view from Coit Tower. The tallest building is Tranamerican Pyramid.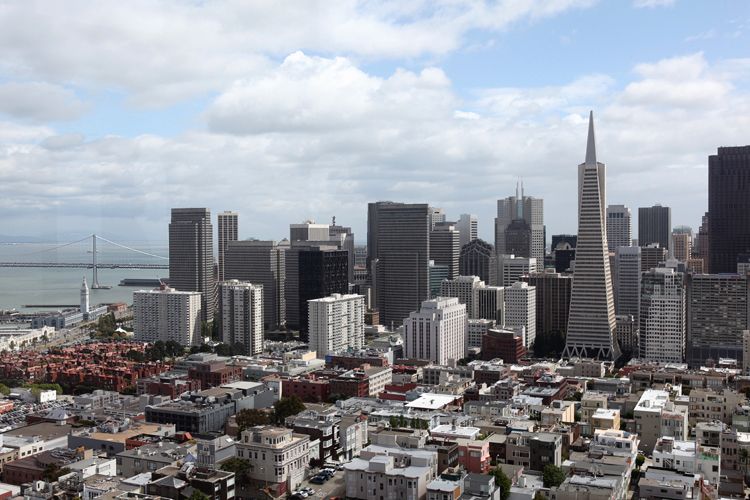 Alcatraz Island seen from Coit Tower, Alcatraz Island is located in the San Francisco Bay. It often referred to as The Rock and it used to be a military prison. You can get there by ferry ride from Pier 33, near Fisherman's Wharf-located at Pier 39- where it is also my favorite place to walk around to see Wax Museum, street performance, especially eating crab on the street is fun. I like to come here every time when I visit the city, but we didn't make it this time.
One of the best things about San Francisco is its passion for the unique. So it's not surprising how much the City loves Lombard Street, one of the most crookedest street, extraordinary roads in the US. Not only is the road crooked, it's also very steep. It's a tourist attraction street. No matter the season, every time I come to town and visit this street, its landscaping is always beautiful.
San Francisco is famous for its hills, including Nob Hill, Pacific Heights, Russian Hill…Twin Peaks is a pair of hills resting at one of the city's highest points, forms a popular overlook spot. This is a view form Twin Peaks.
Golden Gate Bridge was the longest suspension bridge span in the world when it was completed during the year 1937. It has become an internationally recognized symbol of San Francisco and California.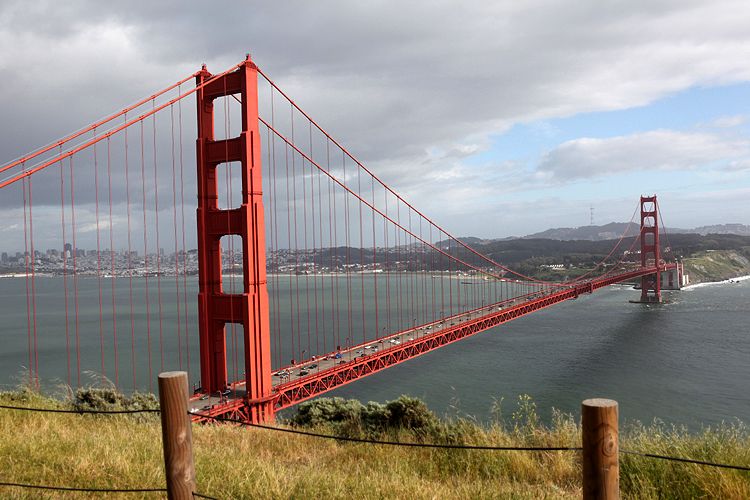 Sausalito. Across the Golden Gate Bridge, just minutes from San Francisco, lies the picturesque waterfront community of Sausalito, world renowned for its Mediterranean flair and breathtaking views of San Francisco. It's charming little town and offers many local boutique shops, restaurants, boutique hotels…
Down hill is Union Square. It's a great shopping area that you can find from big department stores as Neiman Marcus, Sak Fifth, Bloomingdale…to high-end boutiques as Chanel, Gucci…or less expensive shop as H&M, F21…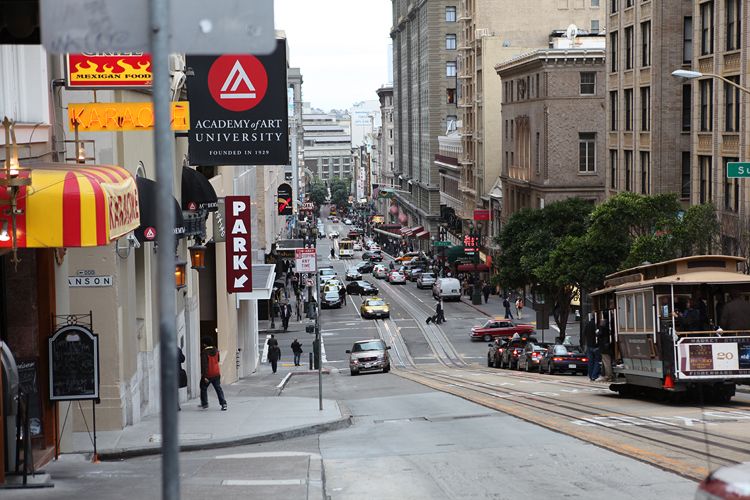 Dinner at Betelnut on Union street, contemporary Asian cuisine. You can find dishes are in Thai, Chinese, Vietnamese, Indonesian style. It's a hip and fun place.
Me in Sausalito town, worn my new Lanvin lucite sunglasses, RO sweater. Bought them in Paris.
If you have more time in San Francisco, I would recommend you get on Cable car is fun. It is an icon of the city. Visiting wine country is fun thing to do that you don't want to miss.Thank you so much for reading and your continuing support!!Wishing you all a lovely weekend with your family and loved ones!!Kisses…Hanh;-)