This season, Balenciaga spring 2010 rtw collection is just incredibly stunning. Every silhouette, each garment is extraordinary. Especially highly structured paneled leather vests and boots are futuristic technique and unique.When I was on my Paris trip, I set my goal to Balenciaga boutique to find a pair of boots which I specifically wanted since I saw them on the runway. When I arrived to the boutique, I saw exactly the pairs that I wanted to have… "OMG"…Excited!..Hold on! Not yet. Size 6 Salma Hayek already got them, the Latino American actress. They do have size 7.5 which is too big for me. I tried on anyway…Too bad! The whole company just made 2 pairs of this specific style. Disappointed. I turned around and saw an incredibly amazing vest. Yes, it was my size and It fit me perfectly. Score!!!
These are the boots that I talked about. Too big for me
And this is the leather vest. I'm happy to choose it over the boots because this vest is more versatile and rare. This highly structured paneled leather vest is an investment piece. Its quality is amazing and the uniqueness of the woven material: leather, woven jersey, nylon foam, and metal are truly artistic craftsmanship. All element of this vest are extraordinary which made the vest a masterpiece. It is one of the eye-catching pieces in Balenciaga spring 2010 runway.
Look at the details! It's just amazing- beautiful art craftsmanship. I deeply love this vest. The best piece in my closet, actually. Well, there are some of my other pieces are amazing too. But this one is serious. I'm sure it asked for a lots of work to do the weave.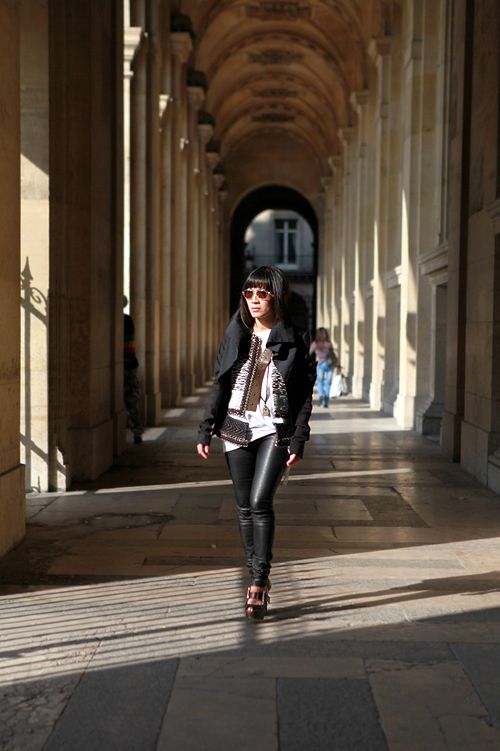 I had my flats for back up.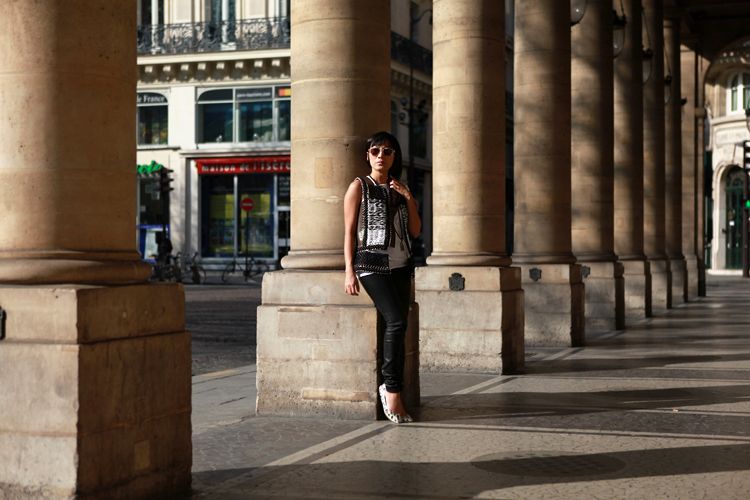 Pompidou Museum
.Pompidou is one of Europe's most important museums of modern art and one of the world's most significant art galleries. Some of the art movements represented within the Pompidou Center are Fauvism, Cubism, Surrealism and Abstract Expressionism. The arts include paintings, sculpture, drawings, photography and short film. The building itself is a piece of modern architecture and the realisation of aesthetic principle. It is a fantastic achievement for the Pompidou Center and makes it popular with tourist in Paris.Ghost et Brother, 1993 by Francoise Quardon (1961).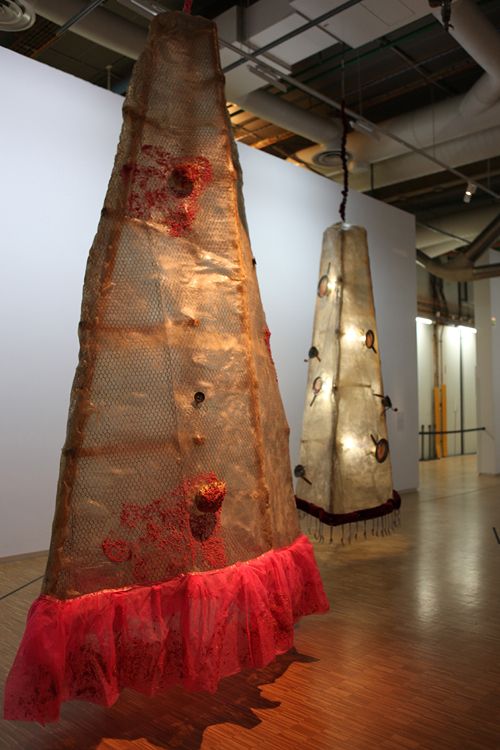 Flag # 30 Between us and the breeze, 2008 by Sara Rahbar (1976).
God Bless Bagdad, vers 2001 by Erro' (1932).
Look! So many people just hang out in front of the Pompidou museum. Fun!
Three Mongolian musicians played in front of the Pompidou to sell their music CD. The music is beautiful. We bought one.
Thank you for your visiting and comments! Wish you all a wonderful day!Kisses…Hanh 😉