First, I want to say a big thank you to my brother and Marcia who have moved in to stay at our house when we're on vacation to take care the house and our puppies.We're very excited for our trip to Paris, Provence, France and to Portland, and Seattle. The kids are excited too! I can't wait to show them Paris, Provence and of course Seattle. It's their first time to visit these cities. This will be a long trip (almost a month) and I should be ready for a lot of energy to travel and take care of my kids at the same time. Light packing for four people is not easy. We always pack clothing that can mix and match. Usually, we don't like to travel with much luggage.
Here are a few dressy clothes for my kids. I also packed along some comfy, casual and cute clothes for the them. Of course, their clothes are from
Crewcuts
. They have adorable stuff for kids from clothing, shoes, jewelry…ect..
And here is my dressy clothing. The same for me, I packed along some comfy, casual yet chic clothes.
Christopher Ross frog and Merlin cat buckle-belts come along with me.
Merlin cat buckle is so adorable. I especially love his blue eyes.
Four pairs of shoes and one pair of tennis shoes. Alaia ankle boots, Alexander Wang leopard wedges, Balenciaga sandals, and doub studded clog by Jeffrey Campbell.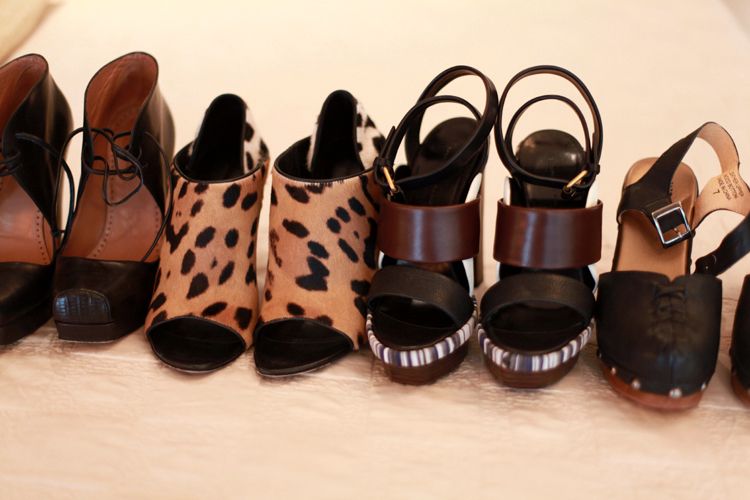 These clogs are 4″ high, 2″ platform. They're super comfy and light and available now at Freepeople.com . I plan to wear these clogs a lot on this trip. Alaia boots are very comfy too, but I don't want to wear them out. Oh! forgot..need to have one pair of flats. See! it's always a good idea to pack your stuff in advance to avoid forgetting things at home.
Hopefully, I'll have time to update my blog during our vacation. Thank you everyone for visiting and comments!
I hope you've enjoyed your summer so far. Before you know it, fall will be here. Have a nice day! Kisses…Hanh 😉