It was our first time to visit Seattle and we're in love with the "Emerald City" at first sight. Emerald City is its nickname, referencing the lush evergreen forests of the area. It's about 170 miles (270km) north of Portland, Oregon and 140 miles south of Vancouver in British Columbia, Canada. We would like to visit Victoria, British Columbia's capital, which is about 100 miles by passenger ferry -hopefully next summer
Seattle has nice, cool summer weather, and a great place to escape from the heat of Dallas. Winter is wet with the temperature around 45-55 F degree (8-13 Celsius). It's a great, exciting city and people here are so charming.
This is the first Starbucks store, which has been at Pike Place Market since the coffee company was founded there in 1971. There are many tourists in this store just to buy souvenirs. Along with Starbucks, there are many companies based in Seattle, such as department store Nordtroms, internet retailer Amazon.com, Microsoft…
The famous Pike Place Market- Public Market. It's really fun to visit this place. The market is big and there are a variety of goods.
The famous fish throwers at the Pike Place fish market. It's a fun thing to see for tourists. In the picture below, there was a fish in the air.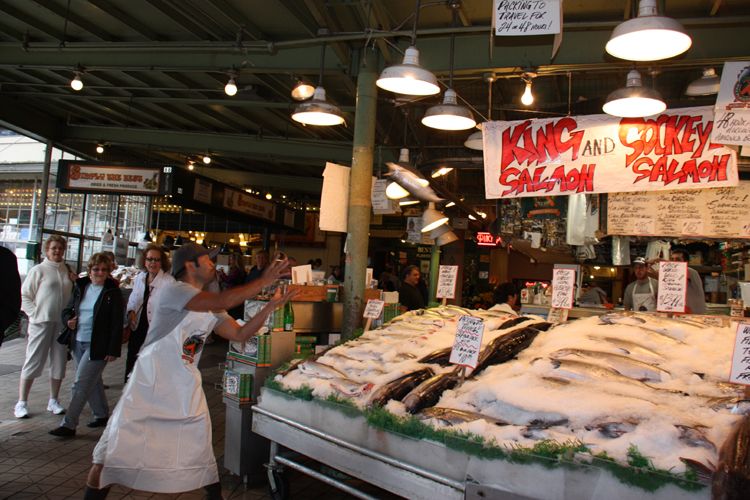 Riding on the Duck Tour was so much fun. My kids loved and enjoyed it so much. This Duck Tour bus tours you around the city on land and becomes a boat to tour you on Union Lake.
The bus becomes the boat.
1st ave in downtown. Art Museum and Pike Place Market are nearby.
Another fun thing to do, and a great way to see the city view, is to visit the Space Needle. It features an observation deck and the rotating CitySky restaurant. Space Needle has become one of the symbols of Seattle. It was built for the 1962 World's Fair, and has become the most recognizable landmark in the city. It's been featured in the television show Frasier, Dark Angel, Grey's Anatomy, iCarly, and films such as It Happened at the World's Fair, Sleepless in Seattle, and The Twilight Saga: Eclipse.
Union Lake seen from the CitySky restaurant at Space Needle.
It was a clear day, so we could see Mount Rainier from the Space Needle.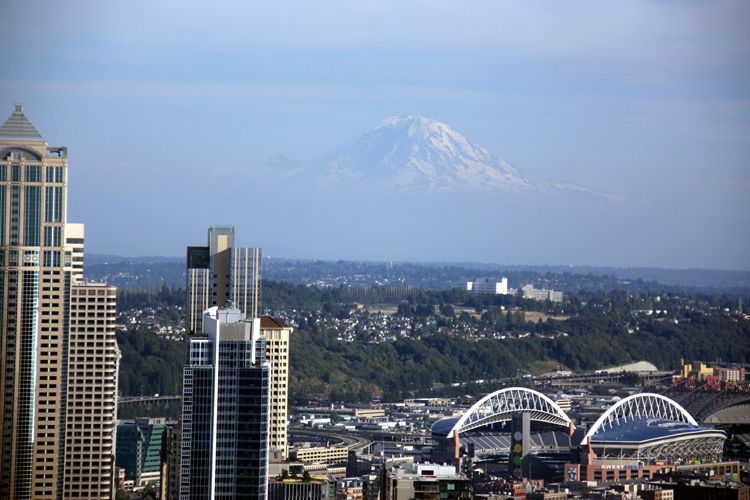 Downtown Seattle as seen from the rotating CitySky restaurant.
Space Needle and downtown at night.
Sunset at Elliott Bay.
Seattle's best waterfall: Snoqualmie Falls, located just 25 miles outside Seattle. The Falls were featured in the popular cult television show "Twin Peaks".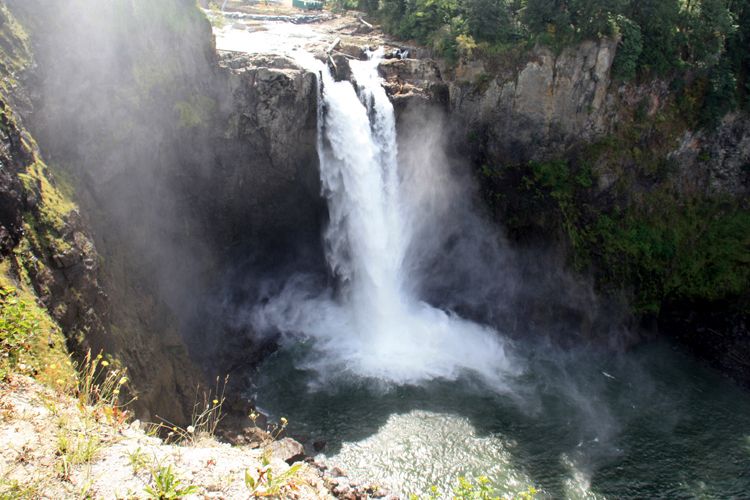 Thank you everyone for visiting and your comments! Wishing you a wonderful day ahead! Kisses…Hanh 😉