I'm in the mood for less expensive shoes, but still fabulous shoes. Look at these shoes below, don't you think they're amazing? They definitely made it into "My A list of fabulous shoes in my closet." This is an example that you don't have to spend lots of money to have fabulous shoes. Thank you to
Solestruck
and
Freepeople
website. But, if you want to spend to the max for higher end designer brand shoes and your pocket allows you to do so, then why not go for it. My thinking about fashion is all about spending what you're comfortable with, having fun, being happy and confident…
These Jeffrey Campbell Lita boots are from
Solestruck
. They're ridiculously comfy, definitely high and so hot. Love it!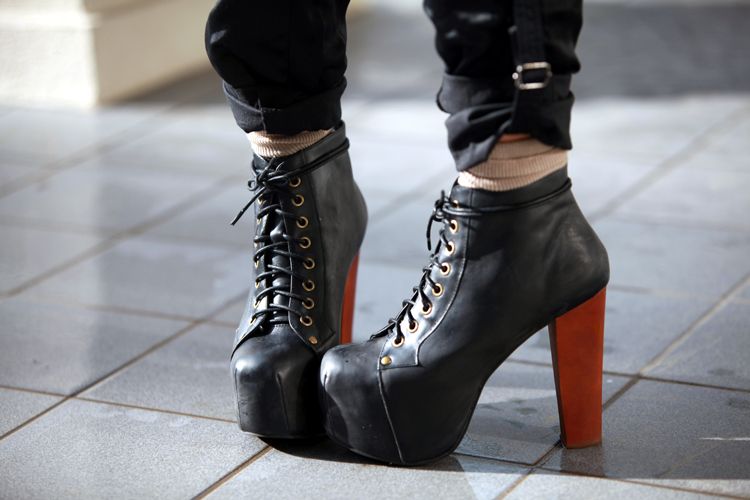 And these Miramar straps Platform wedges are from Freepeople, also Jeffrey Campbell. I love the straps. The shoes are amazingly light, comfy, and awesome. I love Jeffrey Campbell shoes!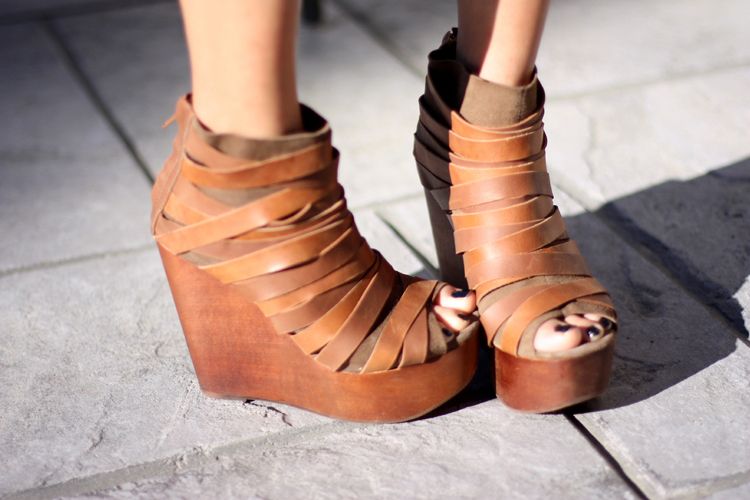 HOME-COOKING.
In Vietnamese cuisine, there is a dish called "Bo tai chanh", it means beef carpaccio cured with lemon juice. One day, I was tired of beef and wanted something different, but I wanted the same flavor as Bo tai chanh. Here is what I came up with: Fresh salmon carpaccio cured with lemon juice.
Here's what you need: sweet-sour fish sauce, 1 sliced red bell pepper, 1 sliced orange bell pepper (you could use any color bell pepper that you like), 1 medium side sliced red onion, a handful of cherry tomatoes (sliced them in half), a handful of chopped cilantro, a handful of chopped rice-paddy herb (called Ngo Om in Vietnamese), minced a handful of unsalted roasted peanuts, 8 oz of fresh lemon juice (I used about 6 large fresh lemon), a thin bed of mixed green salad in a large plate, and I sliced fresh sockeye salmon about 3 cups. The preparation as you see in the pic below.
First, put sliced fresh salmon in 8 oz fresh lemon juice for 10′. During this time, you mix sliced bell pepper and sliced cherry tomatoes with 2 tablespoons sweet-sour fish sauce. Then, you even out this mix on top of the bed of mixed green salad. Pour over this bed the fish sauce which you use for the mixing as in the picture below.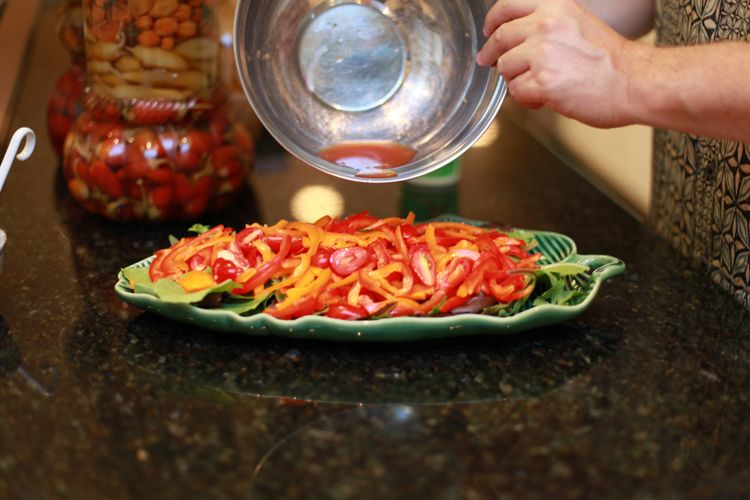 After 10′, you drain out the salmon from the lemon juice (to make sure it's comply drained). Transfer the salmon into a big bow. Now, add 1/8 teaspoon salt, 1/4 teaspoon concentrated fish sauce, sliced red onion, chopped peanuts, and 1 tablespoon sweet-sour fish sauce. Mix. After that, pour evenly over the top of the green salad-bell pepper-cherry tomatoes bed as you see in the picture below. There, you have a delicious, healthy salad. Enjoy it with a glass of white Burgundy!! Let me know how it turns out for you
To make sweet-sour fish sauce: 1 tablespoon fresh lemon juice, 1 tablespoon concentrated fish sauce, about 3/4 tablespoon sugar, 2 tablespoon water. You could add more water depending on if you want it less or more salty. I use Viet Huong-Three Crabs brand fish sauce.
Thank you everyone for visiting and comments! Wishing you all a wonderful day!! Hug…Hanh
ps:I try to post once a week. I'll update to share my looks, food, places, etc…daily on twitter-lifeintravel. I'm thinking about facebook. I'll let you know if I have one