I've been having fun with yellow nail polish. It's really a surprise that it goes well with many spring outfits, and it works as a neutral color for me. It's a perfect color for spring that you can have fun with.
You obviously see how much I adore my yellow Celine bag. It's like bringing a little sunshine into my wardrobe this spring. Yellow symbolizes wisdom. It's intellectual energy is like a bright sunny day. And yes! It bring us a feeling of cheer, optimism, and fulfillment.
I also enjoy wearing these Prada sunglasses. They're funky, fun, and trendy. Following trends in moderation is fun. It makes me feel stylish and up-to-date.
Bringing the pop colors into your outfits this spring is bold and a must have. Color on color is so exciting. Wishing everyone a joyful, delightful, and lovely spring!!!xo…Hanh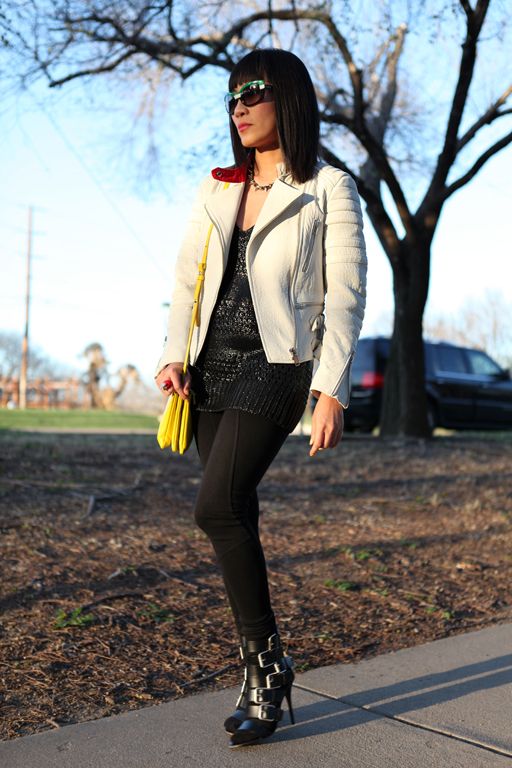 Wearing: Celine jacket, Balenciaga liquid knit top, Giuseppe Zanotti strappy leather buckle shoes.
ps: Helping unfortunate people -down the street, across the country, and around the world…That was what my parents taught me when I was little. Yes, I'm sure that we make a living by what we get, but we make a life by what we give. Thanks for life and Giving back…"At least we've done our best." I agree with Oprah " I don't think you ever stop giving. I really don't. I think it's an on-going process." Because of Japan earthquake and Pacific Tsunami, I take this chance and I just added a Donation Web Pages on my blog. So you can click and make a donation anytime from here. Our little donation will change the world!!