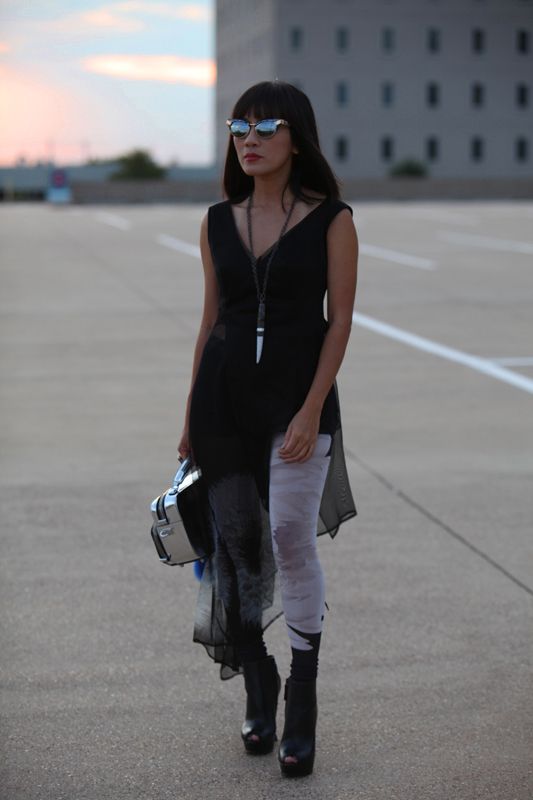 Wearing: Yohji Yamamoto fall2011 dress and mesh leggings, American Apparel spandex shorts, McQueen boots, Wang handbag with my old blue mouse faux fur , Nina Ricci sunglasses.
Sometimes bad things happen at bad time but it turns out to be the best. I wore this outfit last Saturday for dinning out. We planned to stop at a place to take some photos for the blog. Guess what?? When we were there,…we got a flat tire. My husband called Triple A to come to the rescue. While we were waiting, we got some good photos of me and the sunset. This flat tire was a good thing for us to have a chance watching and enjoying the beautiful sunset in Dallas that we almost never do it. It really cheered us up. It was romantic. The nightfall was beautiful with a very pleasant breeze. 45 minutes of waiting and our car was back on the road. I have to say Triple A rocks; fast and friendly.
We had a delightful dinner. It was a gorgeous night to be outside for an after dinner drink. We enjoyed, talked, laughed… Wow! Almost 11:00pm. It was rare for us not to be home this late. It was one of our best nights.
Have a lovely day to you all!! xo…Hanh
ps: I also wore this outfit for attending Yigal show in NYC for NYFW.